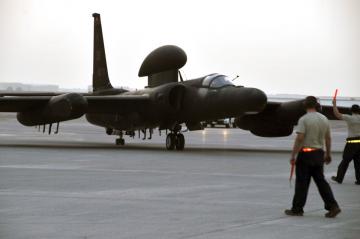 In the first three months of 2010, Airmen supporting the U-2 Dragon Lady deployed operations with the 99th Expeditionary Reconnaissance Squadron of the 380th Air Expeditionary Wing flew nearly 200 combat sorties in support of operations in the US Central Command area of responsibility. When averaged out in flight time, that means a U-2 is flying in the AOR twenty-four hours a day, seven days a week.
In those 200 missions, U-2 airmen supported more than seventy troops in contact events in which deployed ground forces were supported by the U-2's intelligence, surveillance, and reconnaissance capabilities. The U-2 has also provided tens of thousands of real-time imagery to assist the ground forces in on-going operations.
"The U-2 is more in demand now than it was in its almost fifty-five-year history," said Maj. Will Gottenberg, a U-2 Dragon Lady pilot deployed from Beale. "The airplane, as a weapons system, has evolved into this amazing thing. The plane has revolutionized itself in how we employ it. I like to think that effort will continue if we are given the opportunity to keep flying the airplane. The system takes a worldwide effort to make happen. The guys on the ground, I know, love having us out there."

The 99th ERS is an attached unit of the 380th Air Expeditionary Wing. In addition to the U-2 Dragon Lady, the wing is home to the KC-10 Extender and RQ-4 Global Hawk aircraft. The wing comprises four groups and twelve squadrons. Missions for these units include air refueling, surveillance, and reconnaissance in support of overseas contingency operations in Southwest Asia. The wing supports operations Iraqi Freedom and Enduring Freedom and the Combined Joint Task Force-Horn of Africa.